A Better Blue Light
Blocking Solution
Designed with your health in mind
Over 1,000 5-Star Reviews!
Experience Less
Eye Fatigue
Would Recommend
To A Friend
At EyeJust, we're all about the science.
As the leader in blue light blocking technology, EyeJust offers blue light protection for all your devices with both screen protectors and eyewear. EyeJust is doctor tested and scientifically validated to deliver the most effective, research-backed technology that is proven to protect your eyes, sleep, and overall health.

"Not your average screen protector. Upgrade your life"

"These Are the Best Blue Light Products to Combat Eye Strain."

"How to stop eye strain when you relentlessly stare at your screen."

"Shield your eyes from your scrolling habits with EyeJust's blue light blocking protector for your phone."

"Make working or learning from home easier with expert-approved products."

"Zoom Fatigue Is Real — Here's What You Can Do About It."

"Best blue light blocking mobile phone screen protector."

"Doctor-approved and easy to install"
"A cinch to apply and requires no additional thought, making it a low maintenance, yet life-changing gift."

"Products for Protecting Yourself"

"The Best Blue Light-Blocking Products, According To Experts."

The EyeJust Eyewear Collection
The EyeJust Eyewear Collection combines sophisticated designs with superior blue light blocking lenses. Our frames are crafted from biodegradable Italian Acetate and the lenses are the highest quality featuring dual anti-reflective and scratch-proof coating and are registered with the FDA.
Filters up to 10x more of the impactful blue light than other brands


Anti-reflective and scratch resistant treatment


Double-sided, anti-glare coating

The EyeJust Blue Light Screen
Our proprietary blue light blocking technology stops blue light at the source and is proven to protect your eyes, skin, and sleep as well as your device.
Filters up to 10x more of the impactful blue light than other brands.


Maintains brightness and colors unlike plastic protectors


5x the strength of other screen protectors


What Our Customers Are Saying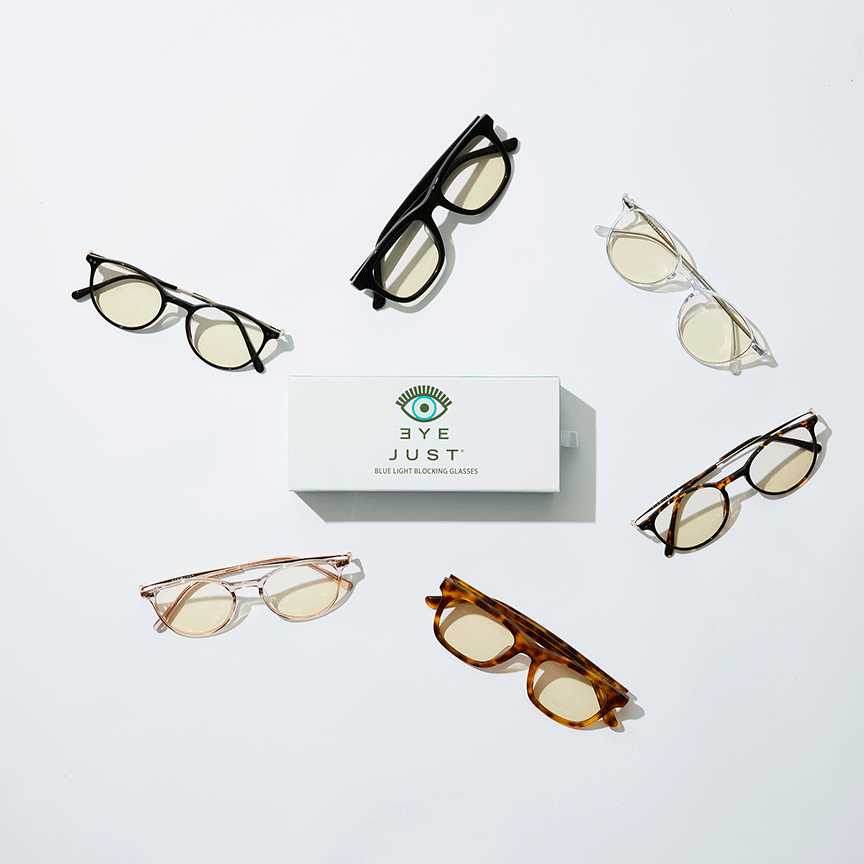 Blue Light Blocking Eyewear Collection
We are so confident you will love these glasses, we are offering a risk free trial. We guarantee that you will feel a difference in 30 days or your money back.
"We tested the leading blue light blocking screen protectors and ranked EyeJust as the number one most effective blue light blocking solution for filtering sleep-disrupting light with clear transparency and no yellow tint."
Dr. Mitul Mehta PhD MD MS Department of Ophthalmology, University of California, Irvine

"There is a lot of market confusion when it comes to blocking blue light.
We take the guess work out. Most brands measure blue light at a level that is not harmful. We created our eyewear to block 40 percent of the 430-460 blue light wavelength which is linked to digital eye strain and sleep disruption. Our lenses are near clear with an anti-glare tint to give you the protection you need when looking at digital devices including monitors, TVs, and screens. We also wanted to design a sophisticated frame that looks great on everyone and offers visual comfort and wearability. So you look great and feel great, while making your health a priority."
Setting a new standard in blue light blocking
SleepScore Labs conducted an 850-night study, validating EyeJust as improving all stages of sleep, which is important for memory, learning, and overall well-being.
Waking up fewer times at night

Feeling well-rested in the morning

Spending less time awake at night
experience less eyestrain
experience better sleep quality